Posted on Jul 21, 2021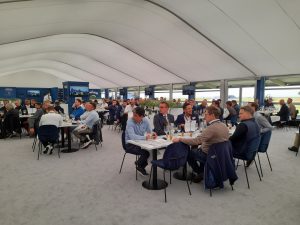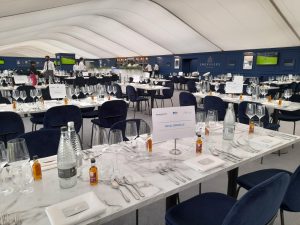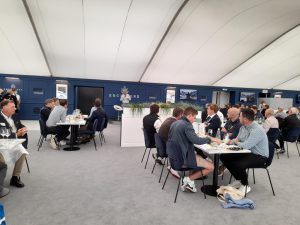 "Our members have one wish for the future and that is we don't waste the good fortune that has smiled on our sport and we continue to work as one." Martin Wild, BGIA Chair 
Bob Smith, Chair of BGIA's Grow Golf,  presented the opening speech at The Open golf industry lunch on behalf of Martin Wild who was unable to attend. In it, he urged the industry to work together to build on the recent growth of the game. 
It goes without saying that I am desperately disappointed not to be with you all today at what is always a special event for our industry.
What a surreal last 15 months this has been for everyone, the experience of uncertainty both in personal family life and business life and for such a long period has been challenging for everyone to say the least.
Taking over the Chairmanship at the beginning of a global pandemic was not in the plan, but what it did do was give me a real insight into the workings and importance of the APPG and its access to lobby government, in proving that golf was a safe sport when restrictions could be relaxed.
It was also incredibly reassuring to see all the  APPG members come together as one and work with APPG Chairman Craig Tracey MP to present a clear, concise structured document to the government that playing golf could meet all social distance guidelines, without a doubt that played a major part in golf being the first sport back.
On May 13th 2020 golf received the go ahead to resume, albeit with restrictions, it was the first sport back and what happened next to our great game was simply staggering, the number of new players was unprecedented, rounds played, participation levels and the demand for product was and still is on a scale that I have not seen before.  I am sure John (Bushell) is going to enlighten you with some amazing statistics in his own inimitable style.
As other sports remain locked down, one thing I recall vividly from all the TV coverage was when former England Cricket Captain Michael Vaughan appeared on the BBC saying "good luck to cricket in trying to win back all these people who are playing golf".
Whilst our members have enjoyed record sales numbers I want to stress to everyone here we are also aware that not all aspects of the wider golf industry have prospered. The golf course owners have lost 5 months of tee time revenue, catering and hospitality revenue has been seriously impacted and many golf affiliated businesses have had very tough times, you are in our thoughts.
From a BGIA perspective we have made some excellent progress with our recruitment drive and we have had 8 new Full members – Cobra/Puma, Pan World Brands, Brand Fusion, Mizuno, Glenmuir, Perry Ellis trading as Callaway Apparel, Peter Millar and Yumax.  In addition 6 new Associate members – The PGA, TGI, Foremost, Euroselect, Media Drive and Today's Golfer/Bauer Media.
As a result we have three experienced new additions on the Executive in Brian Martin, Helen Willsmer and Rob Jackson, we also intend to utilise the experience and knowledge of all Full and Associate members in the months and years ahead.
At the BGIA we are under no illusions that as 'normal life' resumes other family attractions, interests and activities will compete against golf, therefore the retention of all these new and returning golfers must be a priority for everyone connected to our great sport. Our members have one wish for the future and that is we don't waste the good fortune that has smiled on our sport and we continue to work as 'ONE' hopefully by way of a co-ordinated campaign in 2022 to promote the best game in the World.
I hope you have a wonderful lunch.
Best always, Martin.