Posted on May 10, 2021
The Slip! Slap! Swing! campaign, launched by the Melanoma Fund in 2019, with the support of leading golf organisations, aims to change this.  The campaign had a successful 2020, with over 300 of the most prestigious golf clubs in the UK and Ireland becoming Sun Protection Accredited, and now charity is stepping this up.
Slip! Slap! Swing! is back in 2021, launching on the 10th May with an updated campaign; a new website; new tournament accreditation; and a challenge to get over 600 golf clubs signed up. All existing Sun Protection Accredited clubs are being asked to update their involvement, and have been sent a set of brand new resources for 2021, to keep the campaign fresh and engaging.
Rationale
The campaign encourages all in golf to get 'sun savvy', raising awareness of the health risks caused by spending a lot of time in the sun without adequate protection.  It also promotes the importance of being 'skin savvy' helping avoid late detection of melanoma, caused by not regularly checking skin, or knowing what to look for, an issue more prominent in men.
Survey
A recent survey* carried out by Sports Marketing Surveys for the Melanoma Fund, revealed that only 42% of golfers use sunscreen when the weather required it, and a massive 72% never reapply it when on the fairway.  With nearly 30% admitting they avoid sun protection, in favour of a tan.
The encouraging news is 89% of golfers felt the Slip! Slap! Swing! campaign was sending out a positive message, and 79% were keen to get their club Sun Protection Accredited, so it seems getting clubs onboard is an important and welcomed step by most golfers.
NEW Tournament accreditation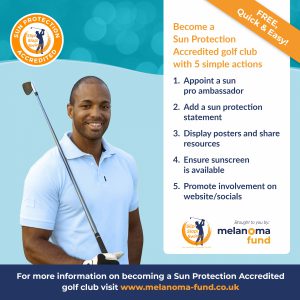 Those who organise tournaments can now sign up, ensuring that staff, players, and supporters are sun protected.  The scheme, which will be used by or
ganisations such as England Golf and the PGA, is available to fixtures of all sizes. Accreditation requires a few simple actions to help enhance awareness, with the Clutch Tour agreeing to become one of the first to sign up.
Says Neil Barnard, operations director; "We have all seen golfers with sunburn, and we all know it is not just dangerous but avoidable with a little forethought and reminding.  We put the wellbeing of our staff and players first, so getting involved was an easy decision, and it's certainly a badge we'll wear with pride."
Says Michelle Baker, CEO of the Melanoma Fund; "To make it clear, you absolutely need to wear sunscreen every time you play or work outside for longer than 20 minutes, no matter what the weather forecast predicts. Skin cancer can be painful and potentially disfiguring, and melanoma can be fatal, but remember all types are preventable. Our message this year is 'Don't play with skin cancer, add sun protection to your game'.
For further information visit www.melanoma-fund.co.uk #SlipSlapSwing21
BGIA is one of many organisations supporting this initiative.